🌎 Buy 2 And Get Free Delivery 🌎
Developed with veterinarians and breeders
Test from the comfort of your home
Get results 28 days after ovulation**
No needles, no stress, accurate results
We at Bellylabs want to make life easier for both you and your dog. Our test kit includes everything you need to perform the pregnancy test at home in just 10 minutes – with a 96 % accuracy rate.
Bellylabs Dog Pregnancy Test is the best selling early detection rapid dog pregnancy test kit for home use. The test is intended to determine pregnancy in a bitch as well as to distinguish between pseudopregnancy and a real gestation. The test measures relaxin hormone which is a reliable indication of dog pregnancy. To reach best accuracy of 96 % it is recommended that the test is performed no earlier than 28 days post-ovulation. There is no harm in testing earlier, but there might not be enough hormone for a reliable detection yet.
Based on years of research, developed with vets and breeders
The test is an early detection dog pregnancy rapid test for home use. The product is based on Bellylabs' own research, antibodies and technology.
Production in Finland, Europe at a CE, ISO 13485:2016 & EC certified factory.
International PCT patent pending.
Let customers speak for us
We Love Science
Your knowledge base for dog pregnancy and heat cycle
When a dog fails to become pregnant despite repeated attempts, it can be a source of concern and frustration. In this article, we will delve into the scientific reasons behind canine infertility and explore the various factors that can prevent a dog from getting pregnant.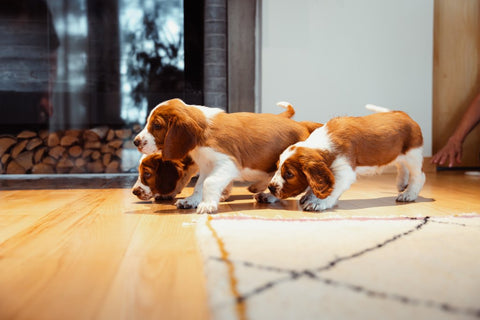 It is essential to have a thorough understanding of the dog gestation period to ensure the health and well-being of both the mother and her pups. In this comprehensive guide, we will delve into the intricacies of dog pregnancy, covering everything from the duration of the gestation period to the stages of development, signs of pregnancy, and care tips. 

Recognizing and differentiating between false and true pregnancy with canines is essential for accurate diagnosis and appropriate management.
Find us from these retailers
*96% accuracy as compared to a confirmed medical diagnosis (ultrasound), study involving 70 tests.
**Performing a progesterone test before mating can help determine the exact timing of ovulation and address variations in gestation days.